i know it's almost the end of 2007 and i'm still halfway through my travelogue of my fantastic summer vacation across the united states. yes. procrastinator, i am. ironically, these last few days of the year, i've been surprisingly free. the past 3 weeks of madness FYP and church and christmas events left me tired but happy. so now i'm grateful for free time to catch up on sleep, nurse my cold, and reminisce about the good ol' times of 2007. i can hardly believe that 1 year ago i was starting my new life in seattle. battling the cold winds and washing my own clothes.
good times.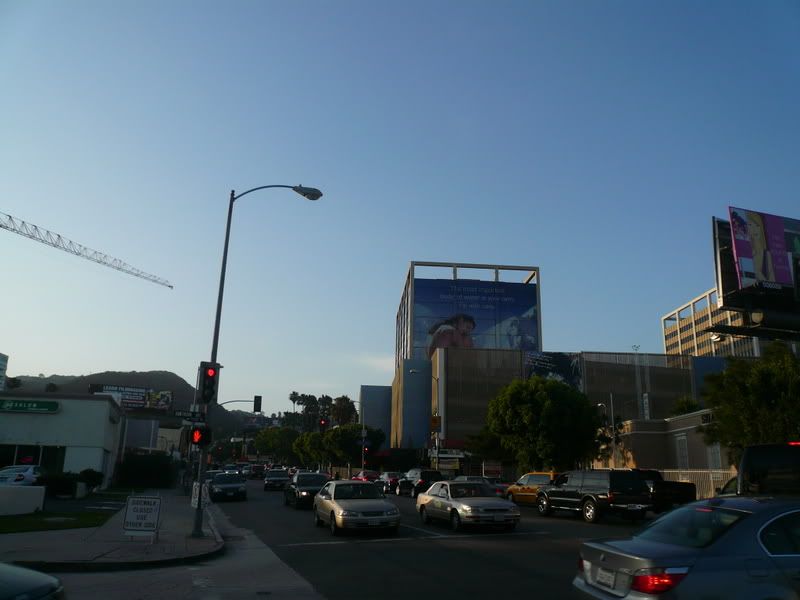 anyway the first shot of los angeles. i felt quite disoriented on the way to my motel. LAX is a good 40-50 minutes away from where i stayed, west hollywood on sunset blvd. and traffic in LA was BAD. and coupled with the lack of sleep from the night before, i wasn't feeling chirpy. but finally my mini-van arrived at the more happening towns of hollywood and i quickly perked up, hoping to see some big star in a big black limo. haha.
anyway LA is a big city with many many people, and a good proportion of them are immigrants from mexico. so spanish is not unheard of. and LA is also literally very big and covers many many towns and their major roads, like sunset blvd, runs for miles and miles through the city. connecting the inland towns to the beach-side towns! and i would only know these trivia because i scruntinized the map while figuring our way in our rented car and driving around the city.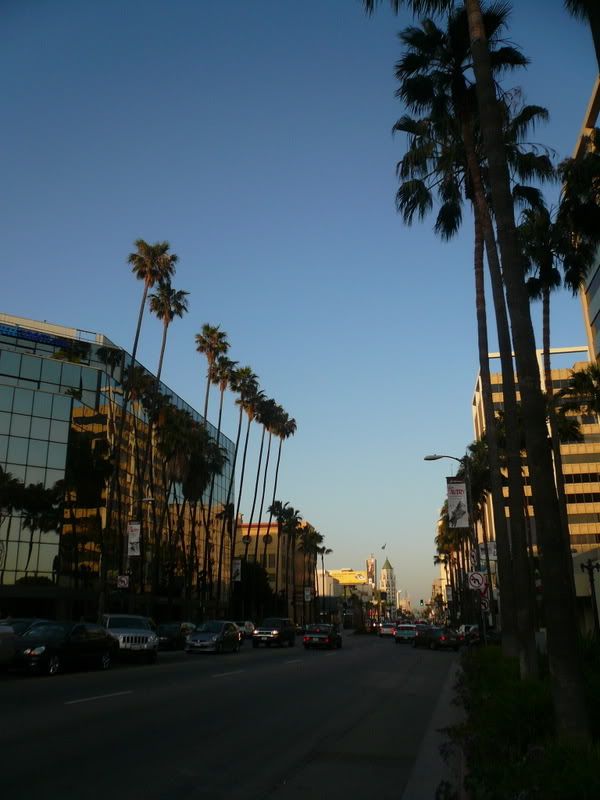 so after checking in and settling down to our modest motel, (p.s already a rung up from our measly hostel in NYC), we ventured out and explored west hollywood on foot. this has almost become my habit when travelling. first day after check-in, if nothing planned, walk around the vincinity of the hotel and explore on foot. with a map of course. and lonely planet/tourist guides.
so where else to go but the famous hollywood walk of fame? just 5 minutes by foot away from my motel.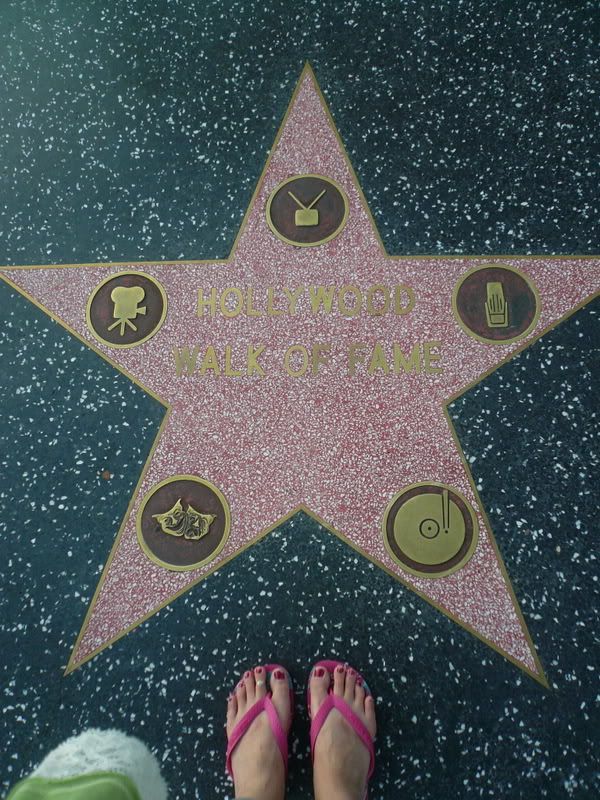 so the entire sidewalk, on both sides, of hollywood blvd here, is covered with stars. with names on it, honoring the past and present stars, both local and abroad.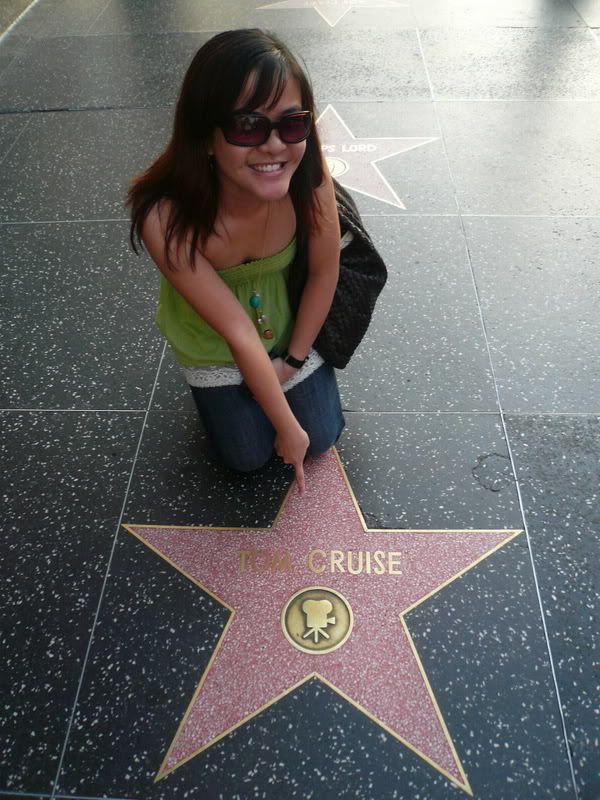 one of the first we saw was tom cruise. and since i used to like him a lot when i was younger, so i took a picture with his star.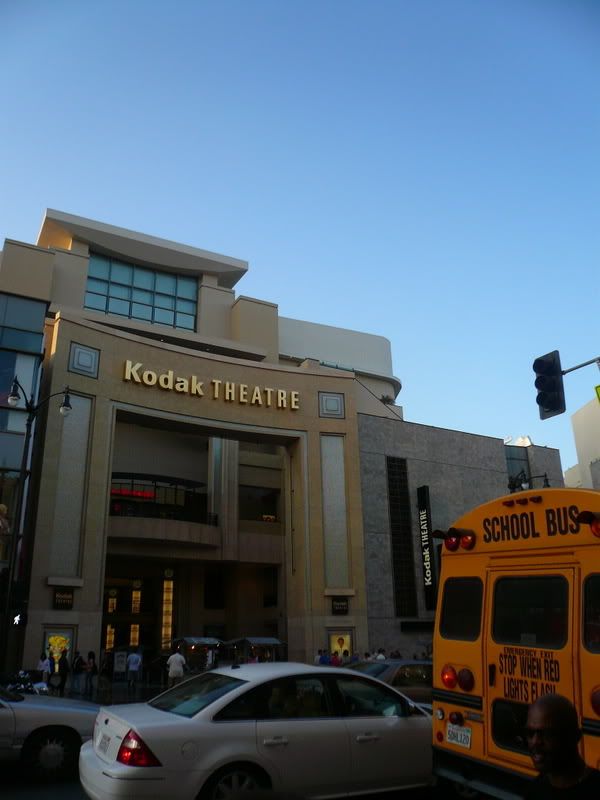 along the street we saw kodak theatre, one of the majoy huge theatres used by major award shows like the academy awards/oscars. and when that time comes in march, the entire street is filled with limos and lined with red carpet and endless paparrazzi. nice to see it now, like a normal theatre, without the glitz. beside it is the famous chinese theatre.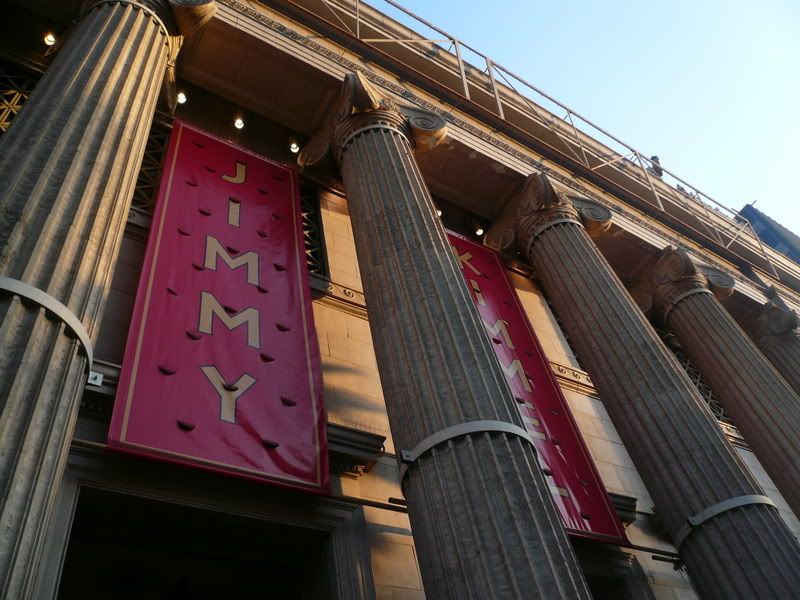 and i arrive at the front doors of jimmy kimmel live studios! jimmy is clay aiken's good friend. but i couldn't get tickets to his show. darn.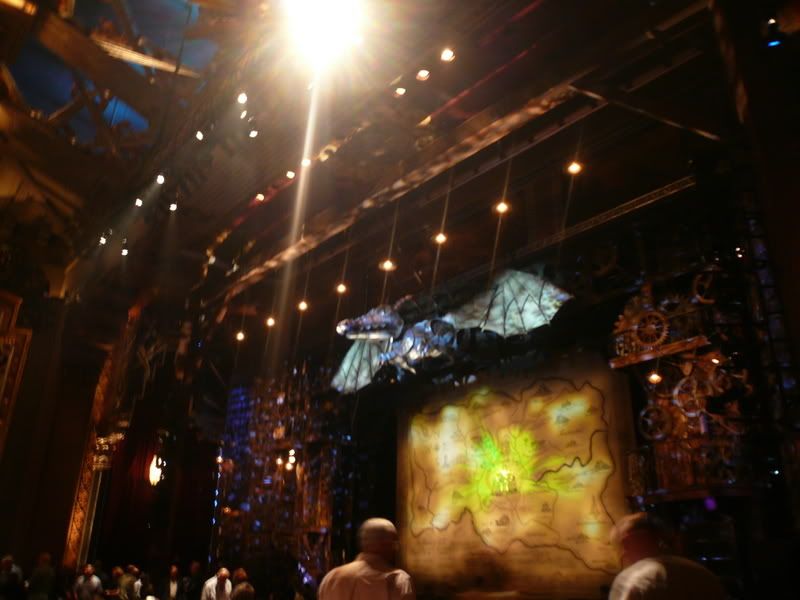 we walked and walked somemore, until at 7.45pm, i saw a familiar name - pantages theatre. and i realize it's where wicked was playing! and on impulse i went to the box office and asked if there were last minute tickets (since curtain up is traditionally at 8pm and people were entering the theatre at said time.). turns out there were and they weren't very expensive! and since linda agreed, i was SO excited and we bought tickets and watched it then and there!
and the photo above is one that i snucked just before curtain up. strictly no photography. but i can still remember the musical and how much i loved it.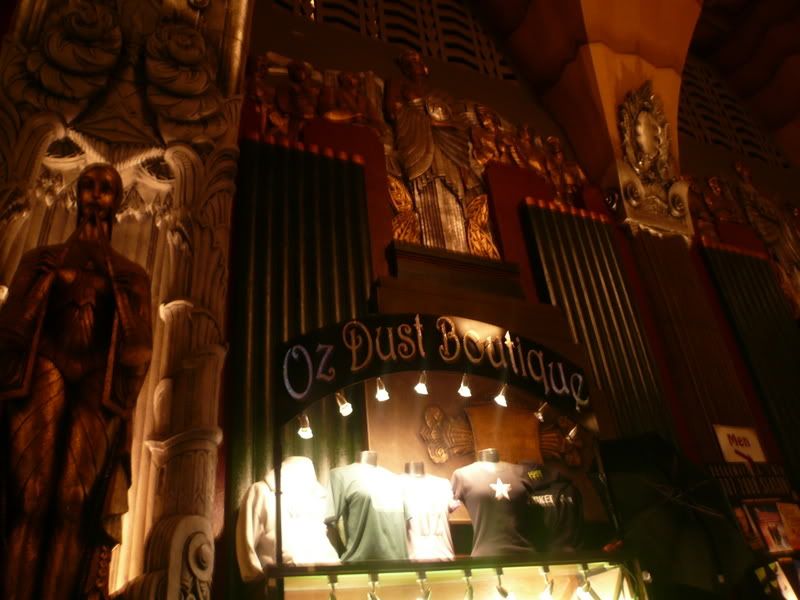 outside the theatre, where merchandise is sold.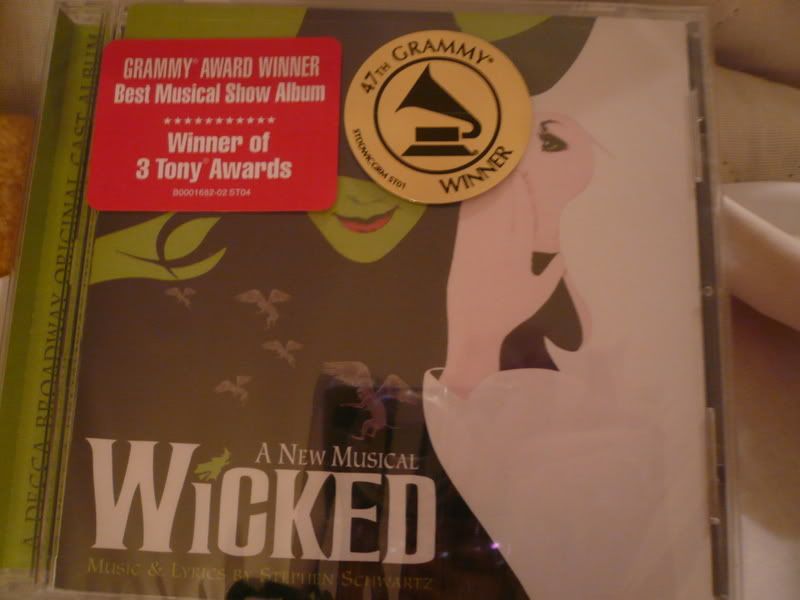 and i bought the CD. people! it is very very good, please watch it if you get a chance. wicked is playing in new york, LA, chicago and london.
the next day, we decided to dedicate the entire day to universal studios. and off we went to universal city. very accessible by their metro system.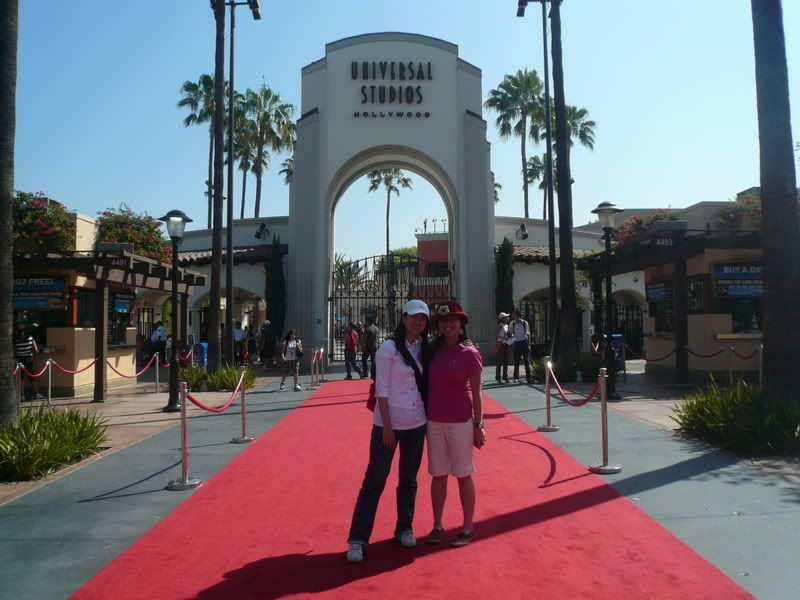 everyone gets the red carpet treatment, even if you're in a polo tee and berms.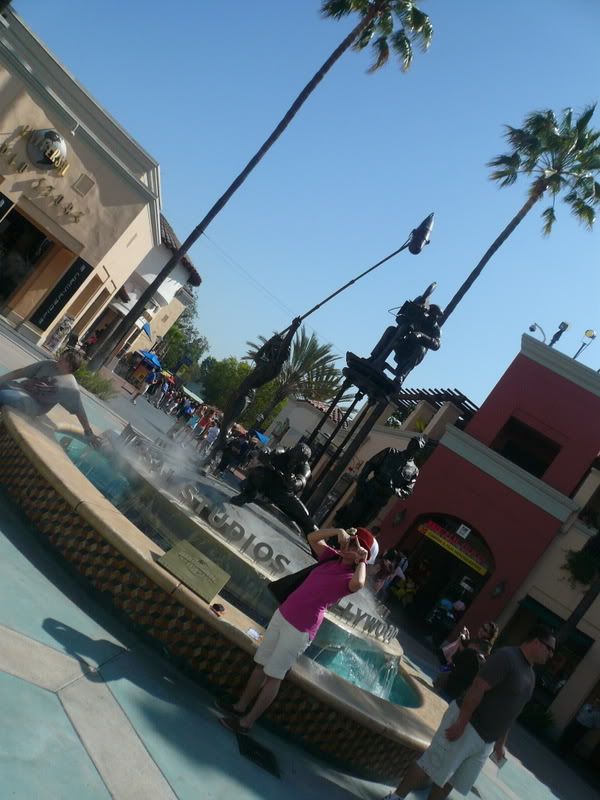 we first headed for the studio tour because guide books tell me they get very crowded later in the day and its impossible to get on the tour. and its free!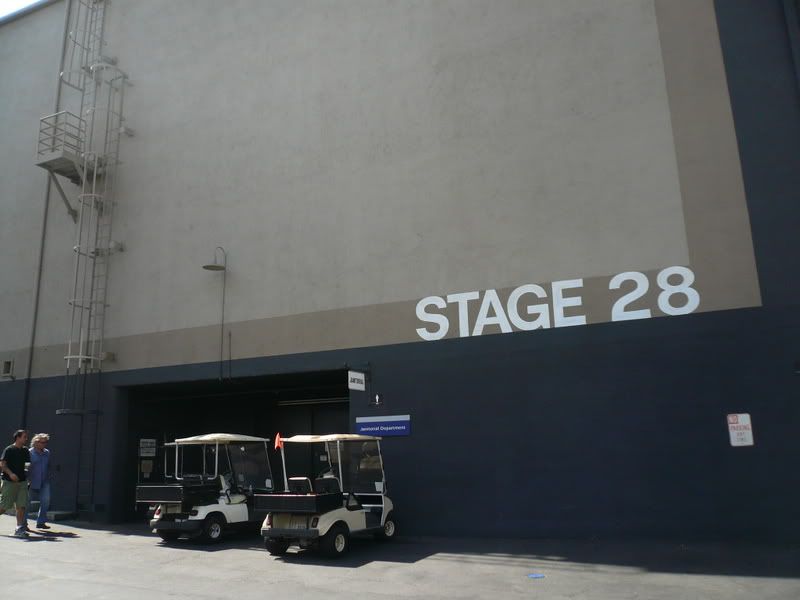 so here we go. the universal studios theme park is actually built on their lot. with huge studio sets and stages. the theme park then uses the stages to incorporate roller coasters and rides. more on that later. so the studio tour takes you into their actual working sound stages where they shoot tv episodes, movies etc.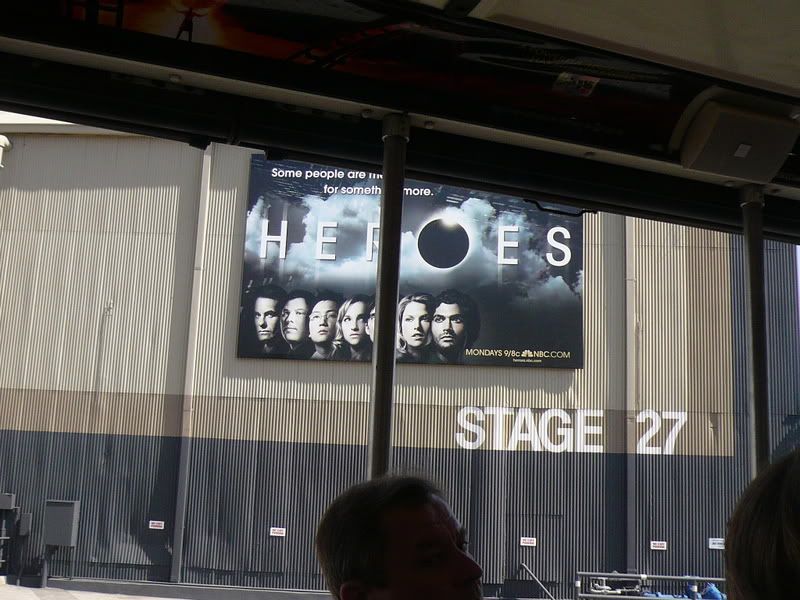 likes stage 27 is used for heroes sets. i can imagine primatech housed inside the sound stage. and also lots and lots of blue and green screens for CGI work.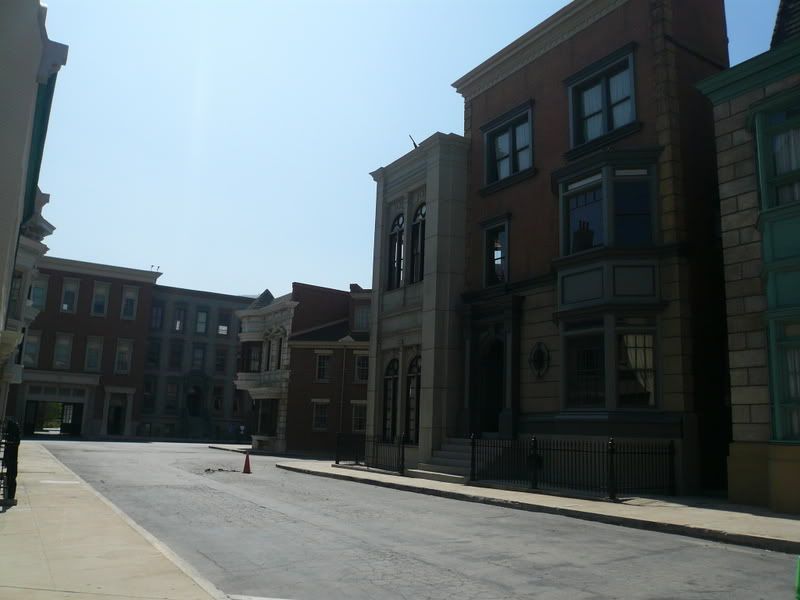 out onto the lot for outdoor locations. all these buildings are fakes, or facades. they are hollow and empty, though some of them are production offices for producers and directors.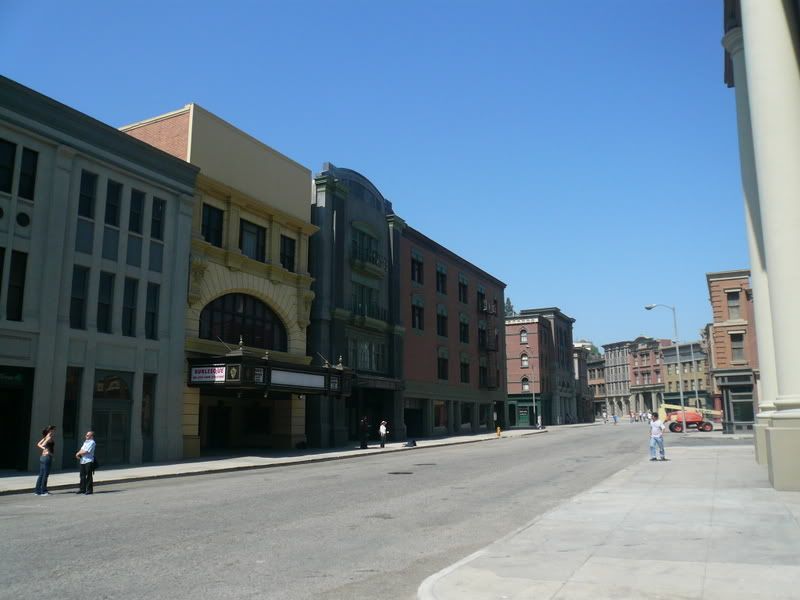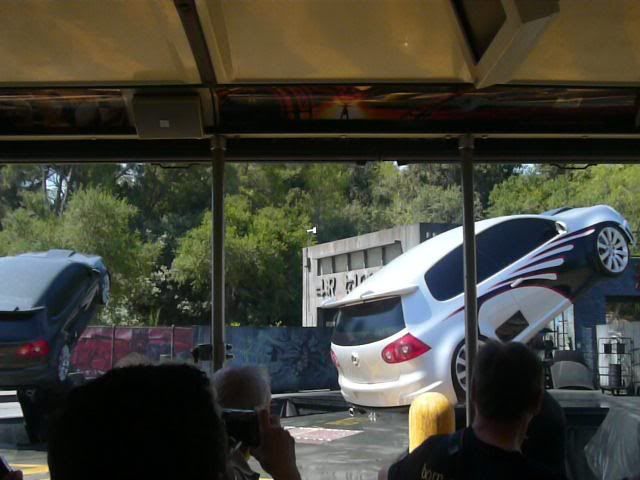 the stuido tour also takes us on a lesson on special effects in film. like exploding cars.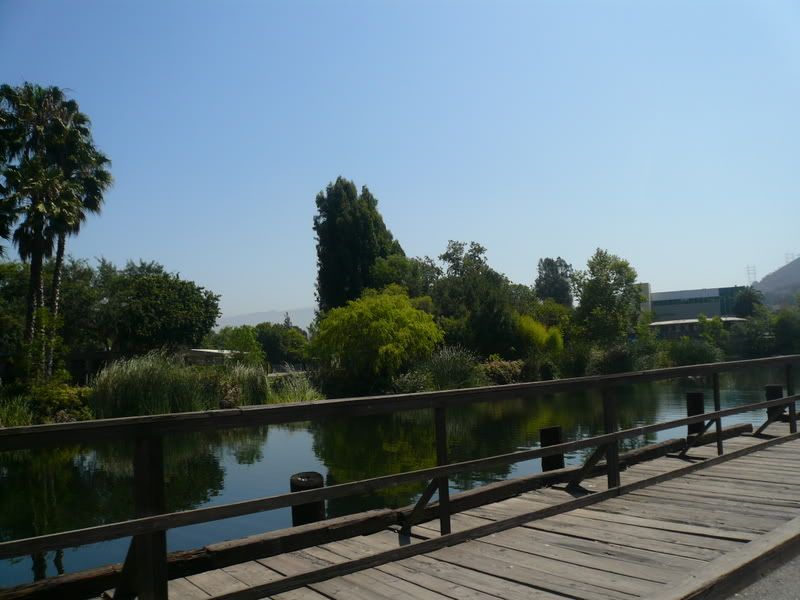 underwater scenes shot in big tanks. you know those titanic and poisedon scenes.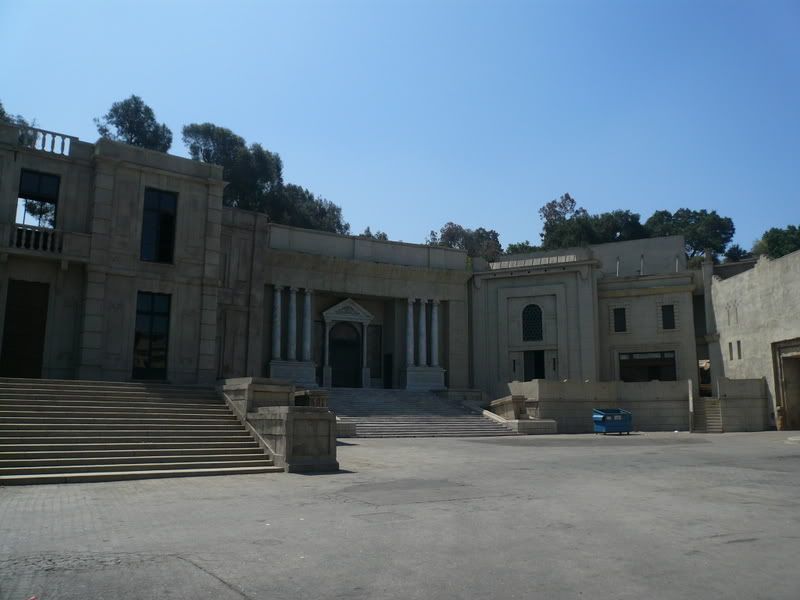 the old set of the mummy returns. whatever the script calls for, they can build it.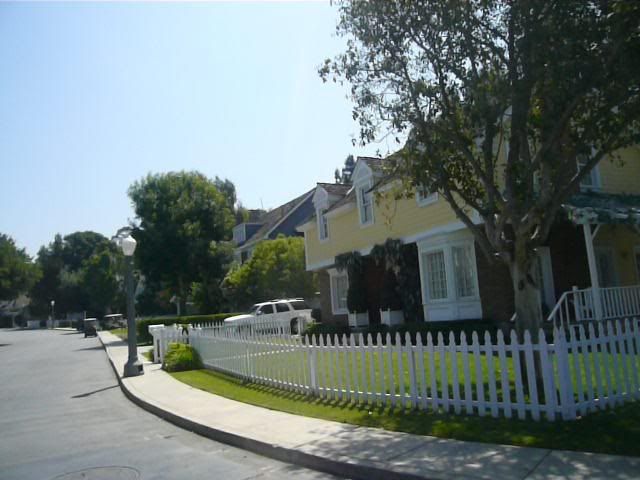 the real wisteria lane. actual outdoor set of desperate housewives. we were shown lynette's, susan's, edie's, bree's houses. it was pretty cool.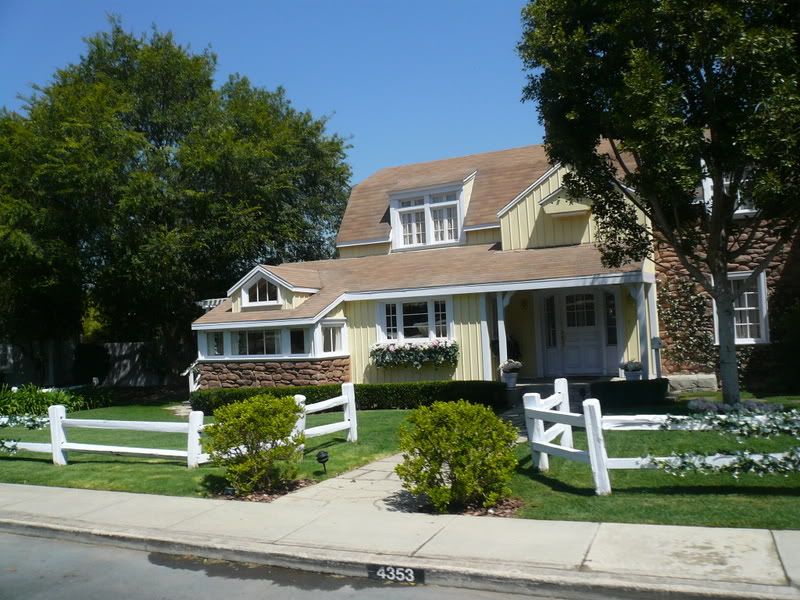 i'm pretty sure other shows reuse the sets since they look like the model american suburban home.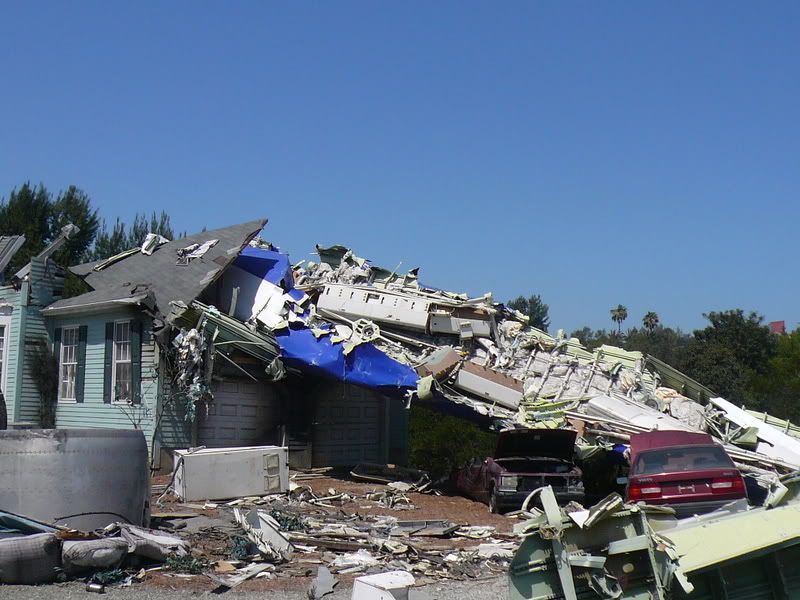 actual outdoor set built for war of the worlds. remember tom cruise and dakota fanning? where aliens could reduce everything to dust, literally. here it is. amazing really. it all looks so real.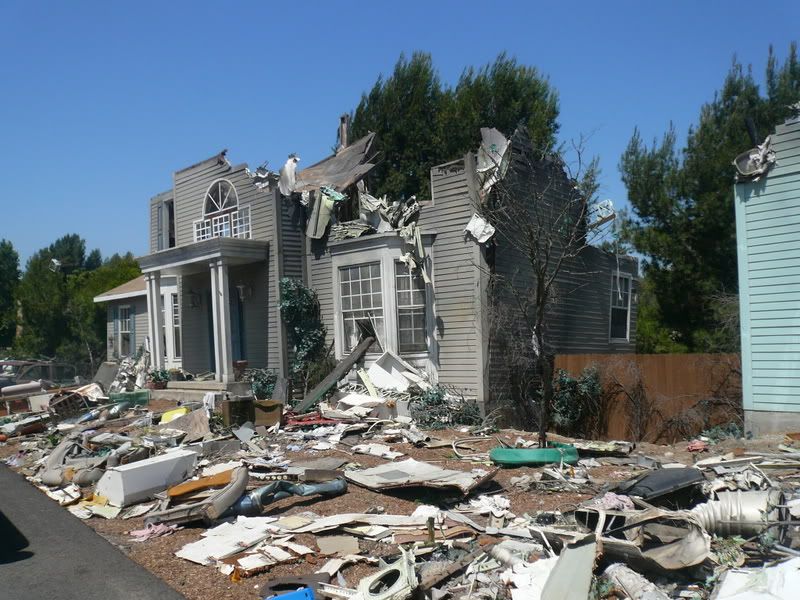 the view of universal city. the big sound stages and smaller ones.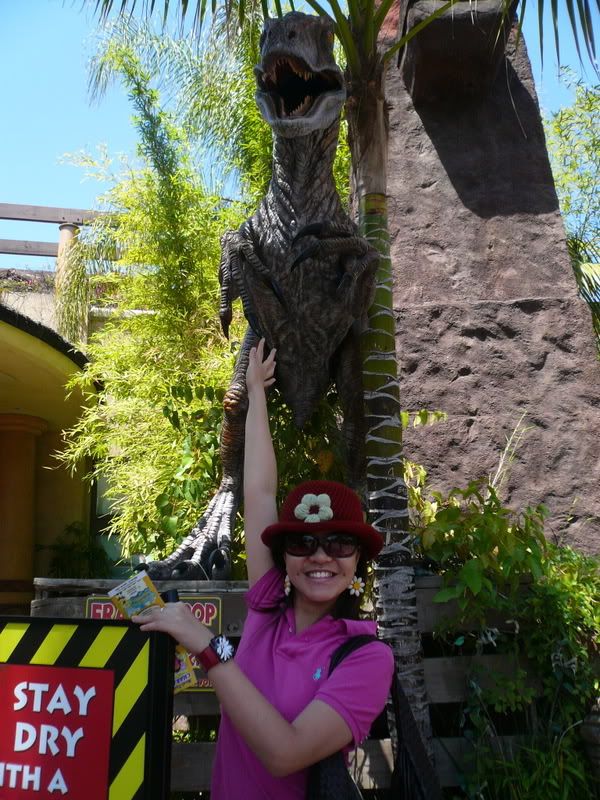 it's time for rides! we sat almost every ride. this jurassic park ride got me SO wet.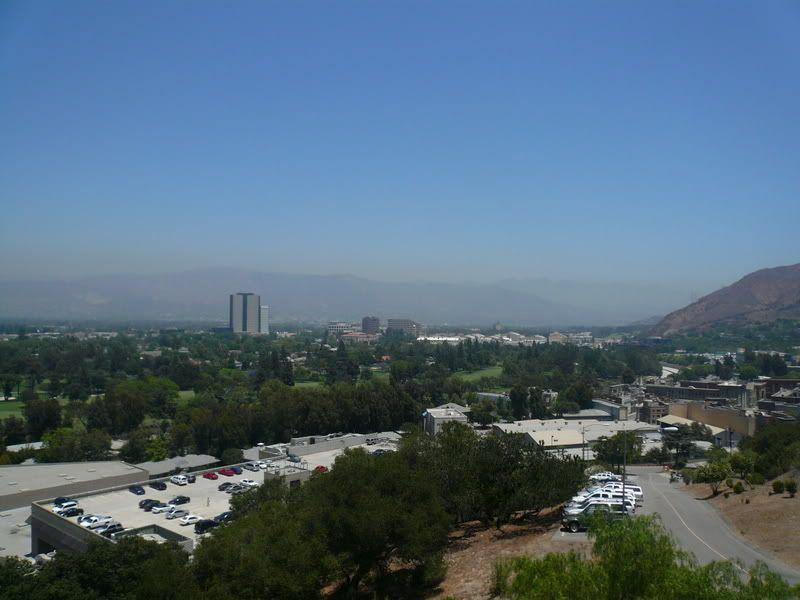 a view of burbank, where a lot of studios are located. where the writers are now picketing and striking. SIGH when will it end? anyway people are also striking outside universal studios.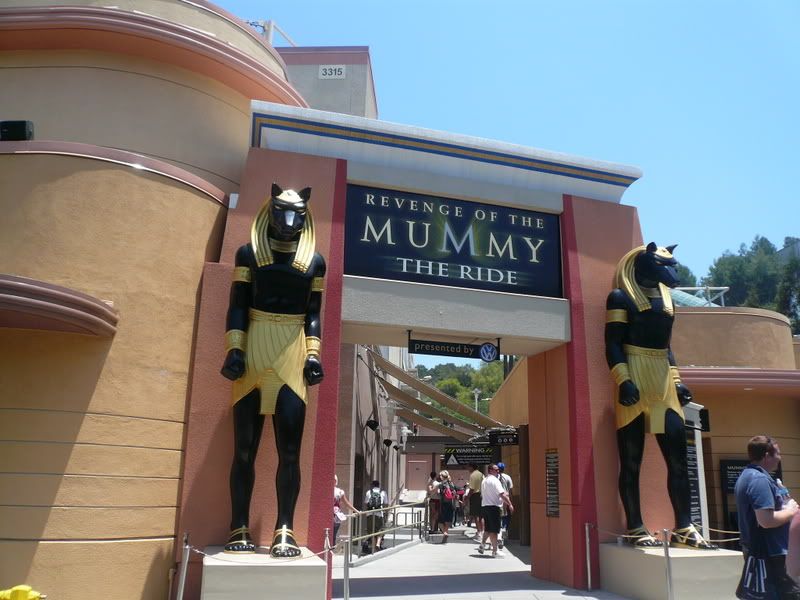 you know i haven't sat on a scary roller coaster ride in ages. that's part of getting old. the fear of breaking your bones. but i decided to the brave afterall and went to sit the scariest ride here. it's a roller coaster, as can be deduced from the long list of warnings and not-suitable-for signs. but it's an indoor one, house in a former sound stage, where it is dark. so i had no way of knowing if there's a giant drop in altitude, 3-4 upside down turns or what not. but i did it anyway and it turned out to be SO exhilirating we went for a second time. haha. (: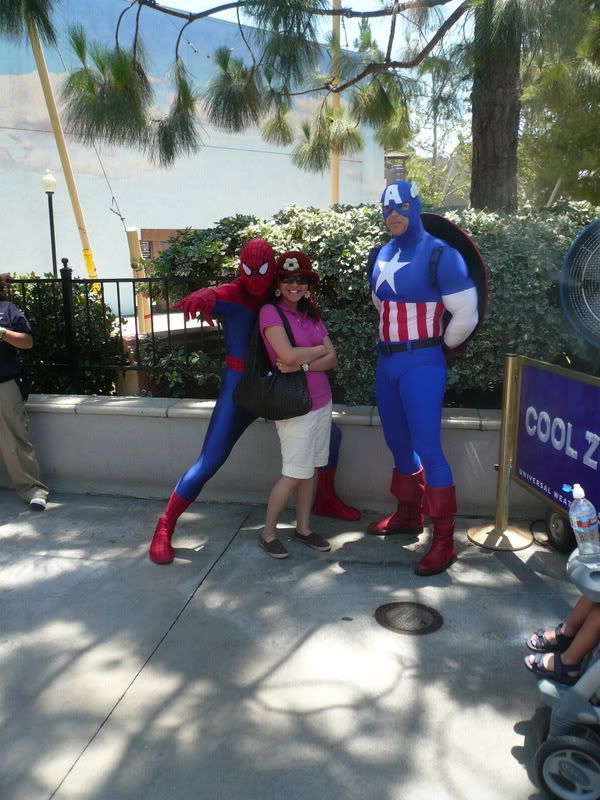 who could resist a photo-op with spider man and captain america?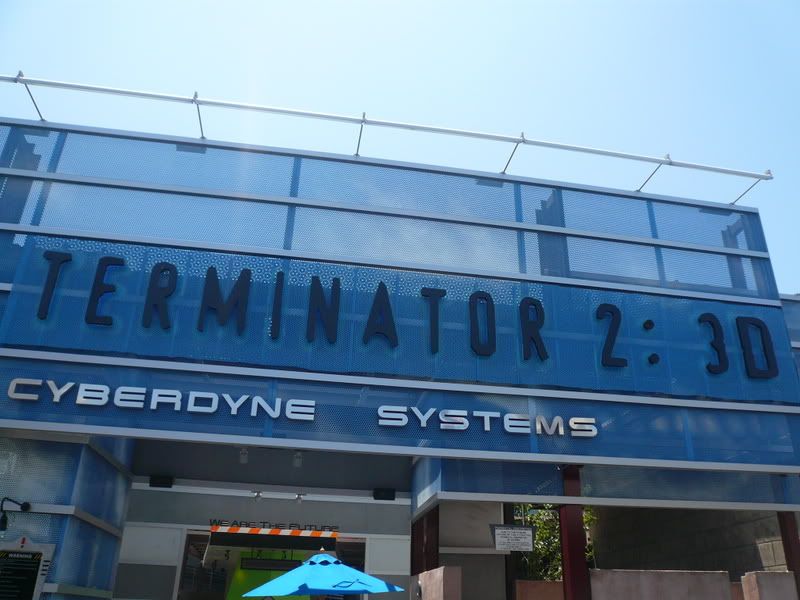 more rides here. terminator 2, one of my childhood movies.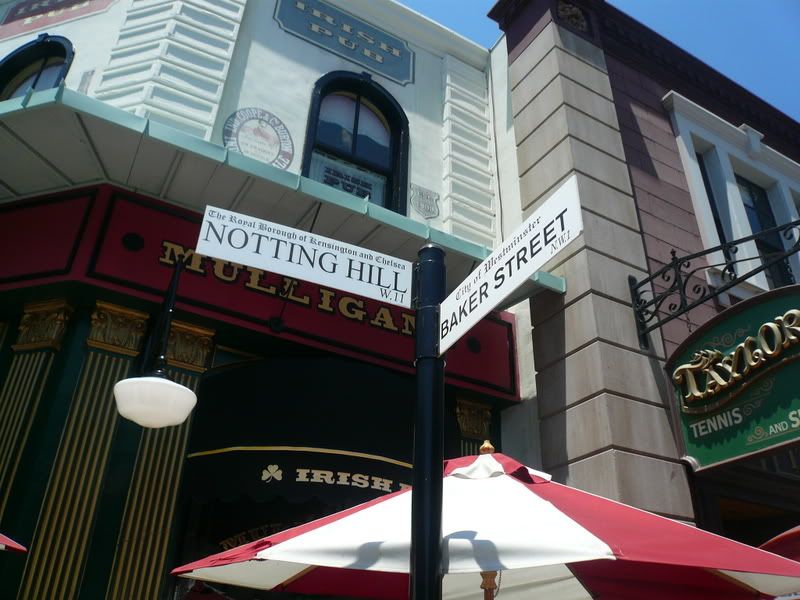 fake street signs.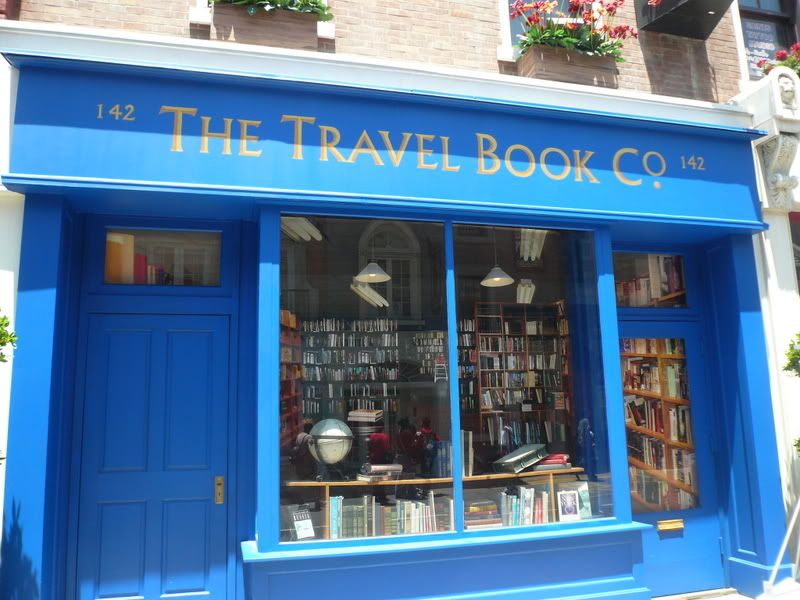 i quite like the movie notting hill but i cannot stand the characters sometimes. especially that line julia roberts' character says to hugh grant's. "i'm just a girl, standing in front of a boy, asking him to love her." oh man.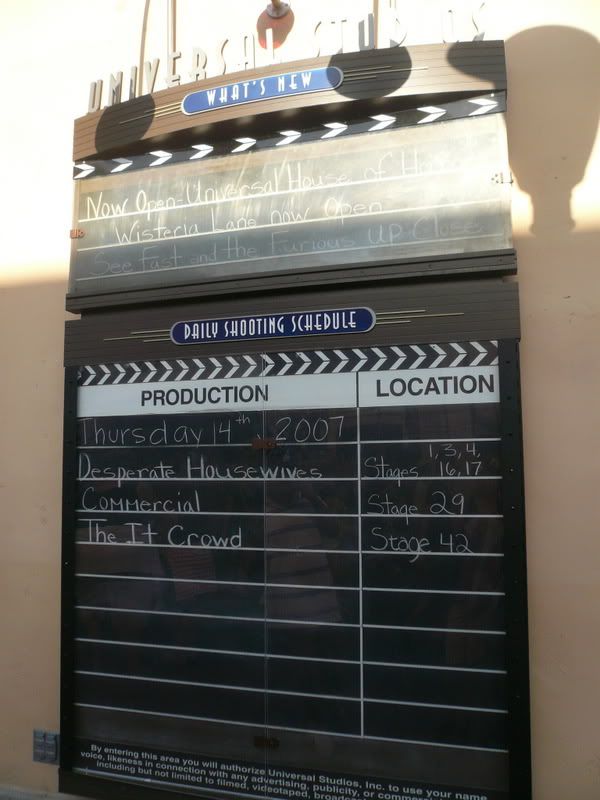 production schedule. (: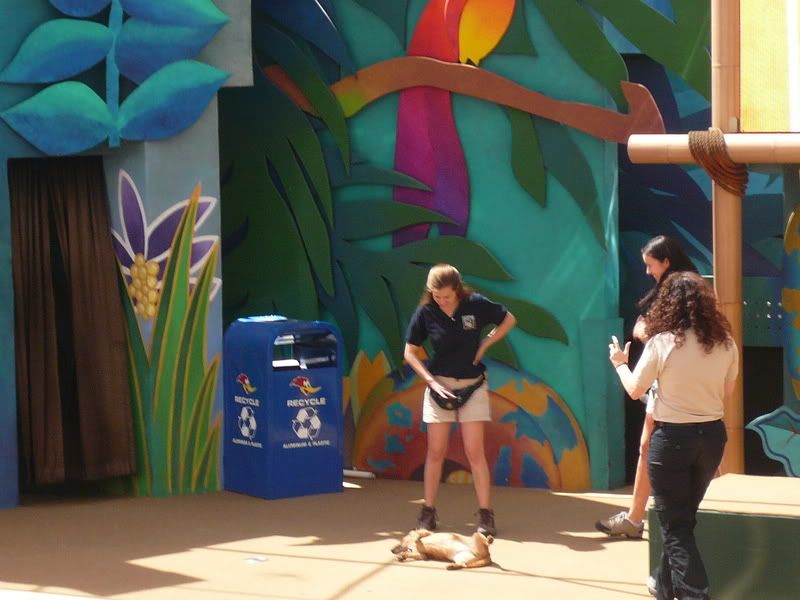 animal show. a major plug for evan almighty, a universal studios movie that was going to come out.
a shopping arcade outside the theme park. quite a cool concept. the park closes at 5pm so you can hang out here till you go home. the shops are pretty interesting too.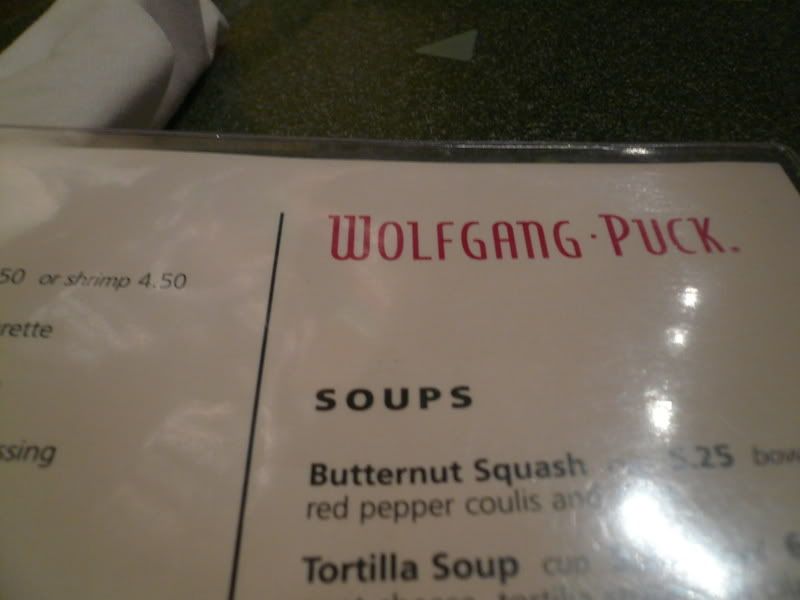 for dinner we settled at a wolfgang puck cafe/restaurant. food was SO good.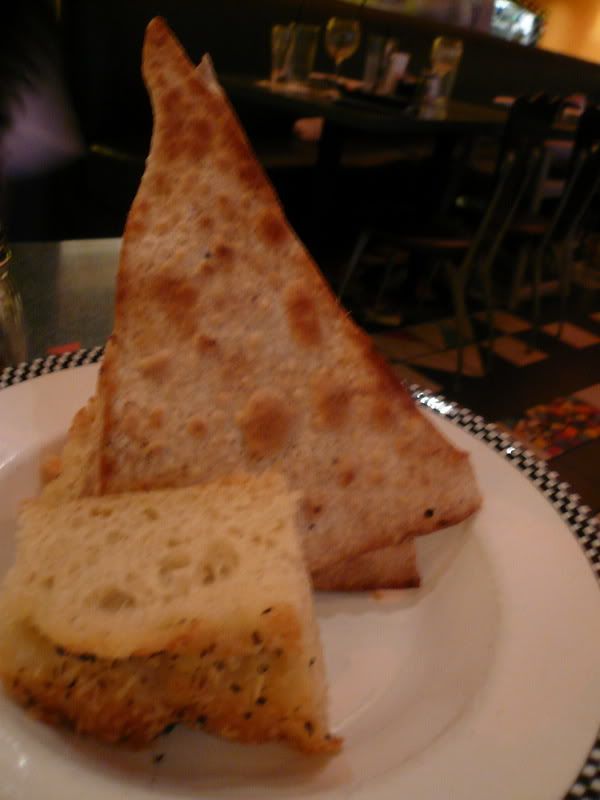 and of course, pictures. this was our complimentary bread. so stylo and expensive-looking right.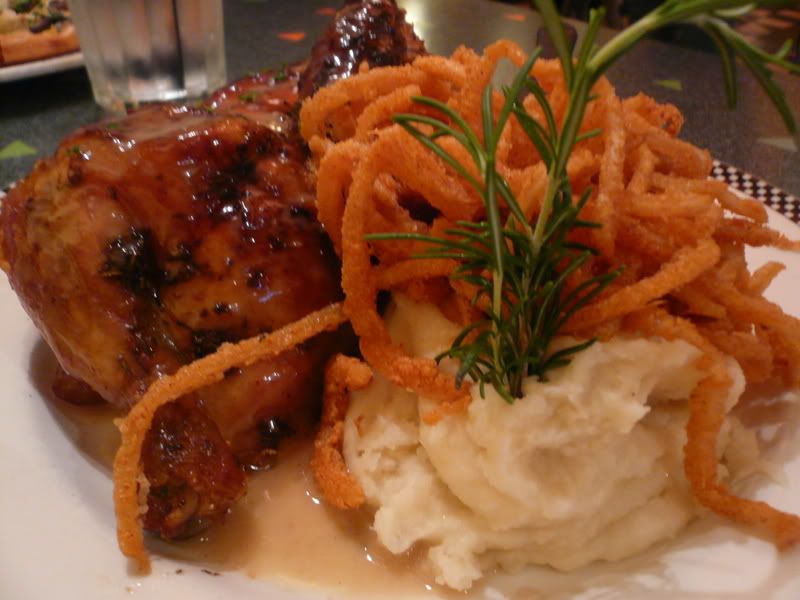 and my rosemary roasted spring chicken with something. it was SO good. yummm.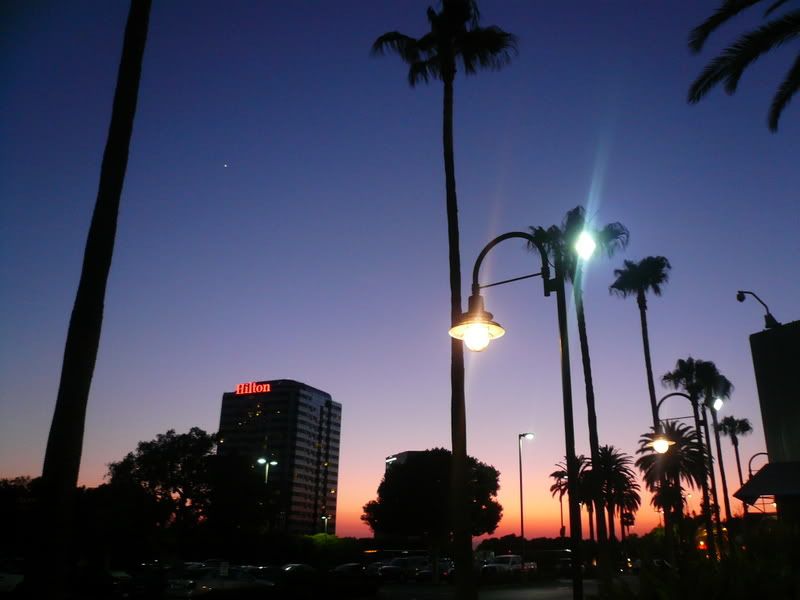 and while waiting for the shuttle to take us back to the metro station, the sun sets. it was beautiful and getting really cold.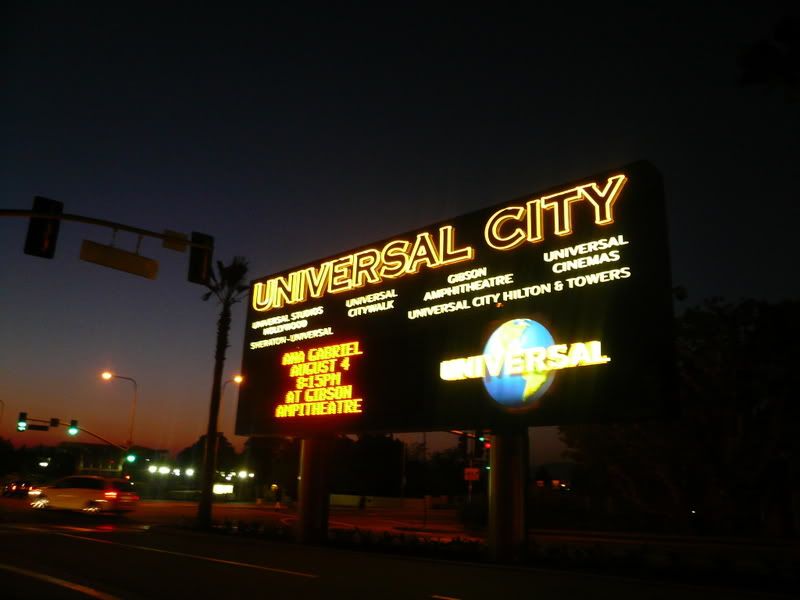 and that's all in a day's work my friends. don't you just love travelling? i can't wait for my graduation trip. after some research on finland, i realize i cannot pronounce ANY of the finnish words, town names, festivals etc. haha. (:
happy new year everyone. have a blessed 2008.