just because it was chinese new year, and since we were gonna spend it away from home (singapore) and 2nd home (seattle), we (actually i gave the idea) decided to throw a pseudo-steamboat party the weekend before CNY at our apartments. bright and early, after a hearty breakfast of pancakes and waffles and eggs, suhui and i left for chinatown to do grocery shopping for the dinner.
we bought the usual suspects. lots of vegetables, mushrooms, fishballs, prawns, meat, fish, wan tan skin, mi fen, dong fen, crabsticks, dried shrimps, dried scallops, chicken stock and many many more. imagine 2 girls carrying all of that in 2 giant backpacks and we still had 4 bags of groceries to carry. no choice. we were feeding 16 people.
so we came back and started preparing after resting our tired feet. washed and cut almost everything and got the soup boiling with 2 kinds of bases. one was chicken stock with dried scallops. the other was dried shrimps with dried scallops too. it turned out really really good.
ok i shall let the pictures do the talking.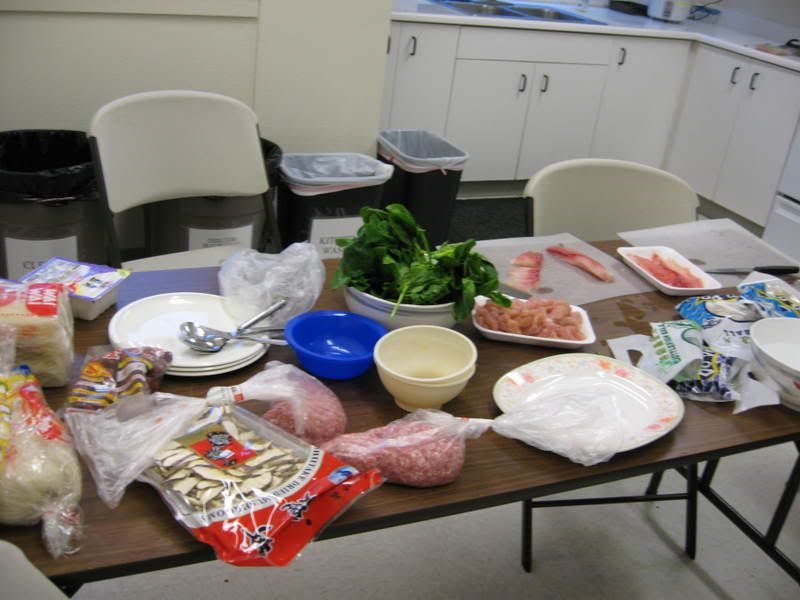 here's the spread we had. 2 of us were so busy with preparing the food. 'cos the rest happily went shopping at northgate. but it was fun! they came back and helped of course.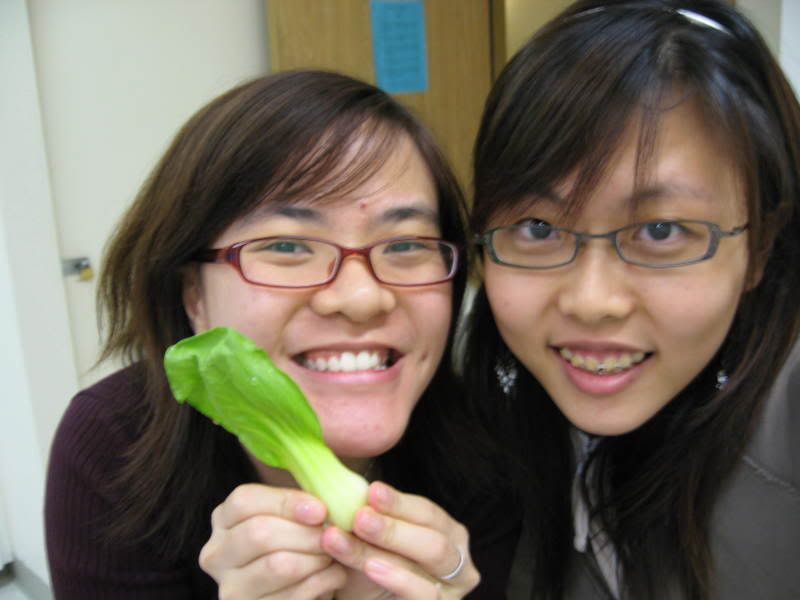 me and suhui. with a xiao bai cai leaf. =)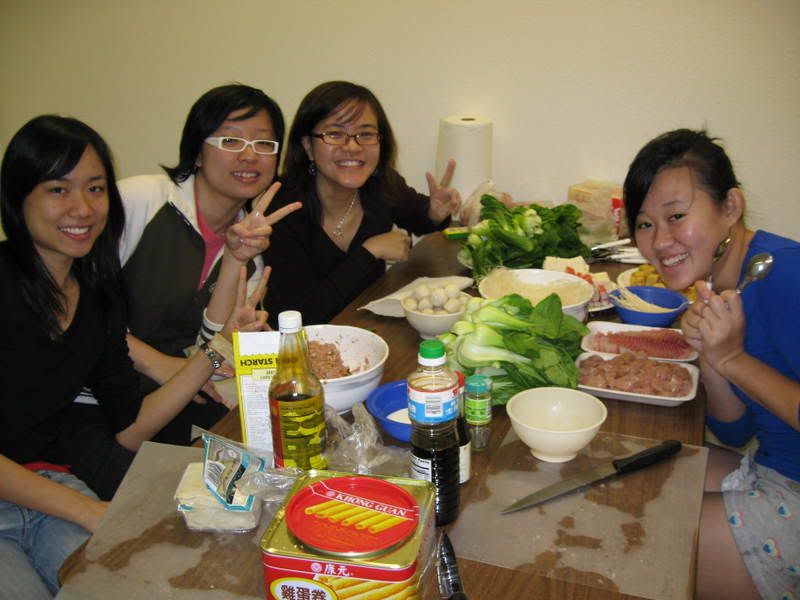 the wan ton ladies at work. u can see we were also snacking on egg rolls while we cooked. haha.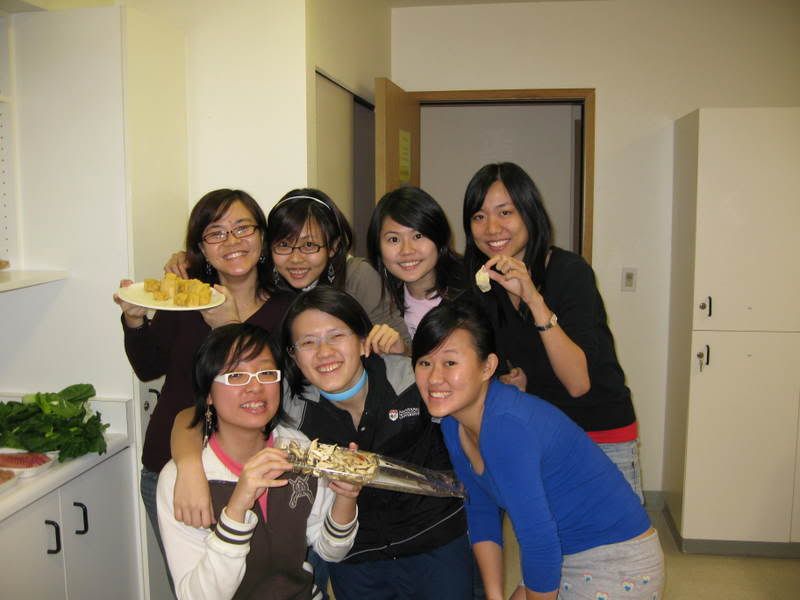 the girls. happy happy. back row from left: me, suhui, huishan (business major), wendy (psychology major). front row from left: jieying, yinyin, shian chi.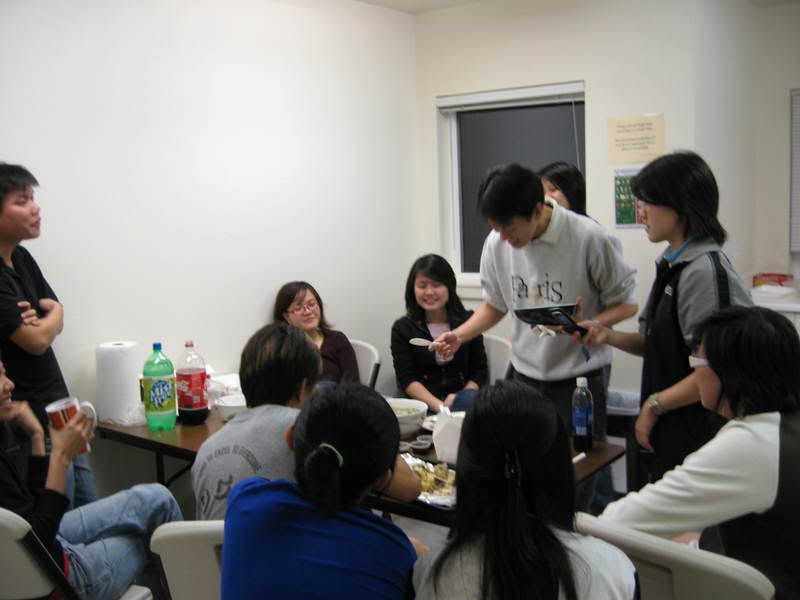 after dinner, we cleared the leftovers by playing zhong1 ji2 mi4 ma3. where the loser has to eat a bowl of food that is chosen by the previous loser. haha. and we managed to finish ALL the food!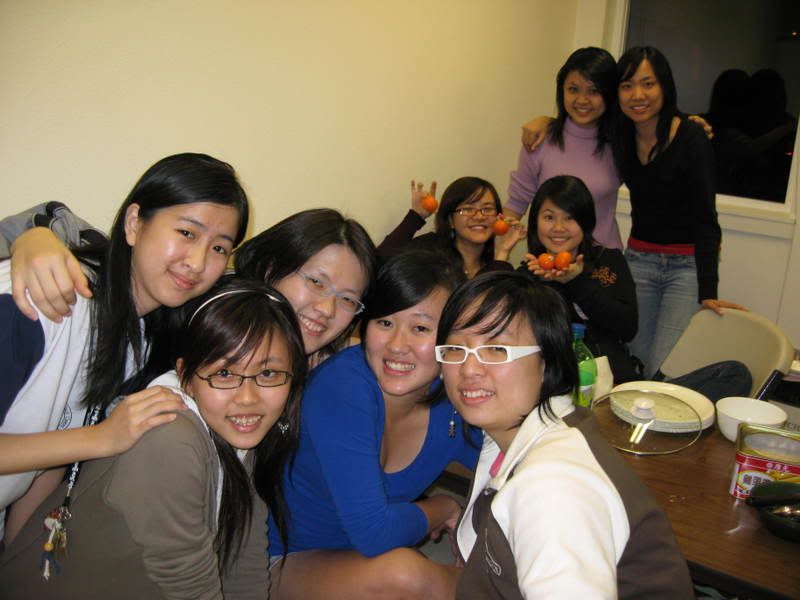 the girls again. the 4 of us looked quite extra behind haha. it is a funny photo.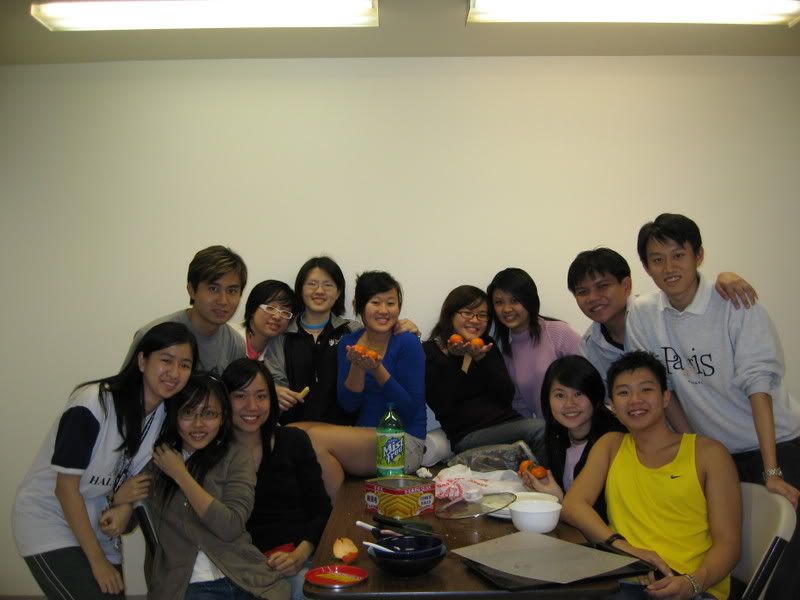 everyone at the dinner. =) we were snacking on egg rolls and pumpkin seeds and mandarin oranges and the white rabbit sweet. after this shot we used the multi-burst function on the camera and took a continuous series of 10 shots. like neoprints! and it was SO fun because the guys kept trying to block us girls by jumping on the table. it is really quite funny. one day if i've got the time i'll photoshop it into a collage.
yup that's it. we didn't take a lot 'cos we were all busy eating. haha.
ok the next post is gonna be vancouver pictures. (: but dinner first.